Commercial Services
The Arc of Hilo is Hawai'i County's largest employer of adults with disabilities in Hawaii.  It is only because of our valued contract partnerships with county, federal and private enterprise can we support individuals with disabilities, who work part-time or fulltime, during the day, and after hours.  Every individual employed makes minimum wage or more, and we're proud that we pay out almost a half million dollars in wages to our participants, which helps them become more independent and self-directed.
We proudly offer services in over 100+ community work sites with contracted services in Janitorial, Landscape Maintenance, and Laundry Services.
We need an even broader network of employer partnerships to help unemployed adults, and transition-age youth, find economic inclusion and a career that they'll love.  Reach out for a free bid at info@hiloarc.org We'd love to have you as our new customer, and help us expand the work available for our workforce!
Need Yard Maintenance Services?
Yard Maintenance
No job too big or small
Competitive quotes
Trained staff and commercial equipment
Serving County, corporate and private residents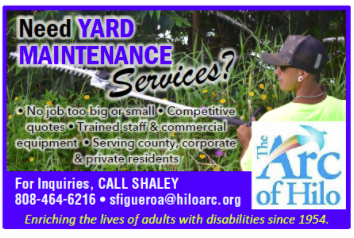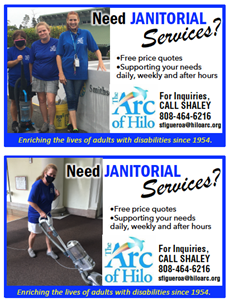 Need Janitorial Services?
Janitorial Services
Free price quotes
Supporting your needs daily, weekly and after hours
Laundry Services
Washed, dried, folded
Pick up and delivery
20 lb minimum order
$1.35 per lb.
Serving healthcare facilities, restaurants, hotels and private residents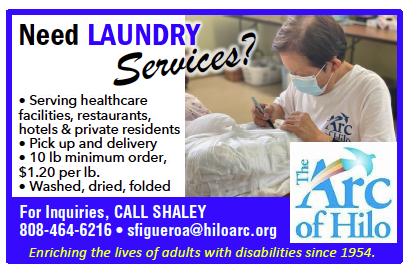 Our Commercial Services Employment Partners
HOPE SERVICES HAWAII, INC
WAIAKEA HEALTH CENTER
KAISER - HILO
CAFÉ PESTO
BAY CLINIC - Hilo Women's Health Center
SOH Dept of Health (Hilo Seaside)
Bay Clinic Dental (Hilo)
Bay Clinic Dental (Keaau)
The Temple Bar
Hope Services
Aloha Acupuncture & Wellness
Curtis Neck Salon
Dr Lau/Dr Oldfather
Eve de Molin Acupuncture Works
Going Home Hawaii
Hawaii Vision Surgical
Hawaiian Body Products
Headline News
Hilo Bay Hostel
Hilo Naturopathic Clinic
HRA-Ponahawai
HRA-Waianuenue
Inner Harmony Bodyworks
Parents and Children Together
Pineapples
Hawaii Community College Nursing
Camp Mekokiko
Stanley Holdings LLC
YWCA
Sure Foundation Puna
COUNTY OF HAWAII
Aupuni Center (DMV & Finance)
Aupuni Center (Hallway)
Aupuni Center (HR)
Aupuni Center (Park & Rec)
Aupuni Center (Planning)
Aupuni Center (Public Works)
Aupuni Center (RPT)
Aupuni Center (Safety Workers Comp)
Aupuni Center (Conference Room)
Corporation Counsel
County Baseyard (Public Service Ctr aka "2-story")
County Baseyard (Traffic)
DEM
DIT
DIT (@Kinoole)
Hawaii County Building
Prosecuting Attorney's Office
American Job Center (aka One Stop Office)
County Housing - Kinoole Ste 102
Keaau Community Center
Hawaii Police Department (HPD)
STATE OF HAWAII
Department of Land and Natural Resources
Hilo Adult Mental Health Svcs
Waiakea Health Center Complex (Laboratories & Vector Control)
Environmental Health Facility
University of Hawaii Hilo (Hale Kanilehua)
University of Hawaii Hilo (Hale Kauanoe)
University of Hawaii Hilo (Hale Ikena)
University of Hawaii Hilo (Hale Kehau)
Public Defender's Office
Child Care Connection
Childrens Justice Center
US Army National Guard - Hangar&Motorpool
FEDERAL
Federal Building/Post Office
US Customs Building
USDA
Smithsonian Astrophysical Observatory (Main SMA Bldg/Genl Offices)
Smithsonian Astrophysical Observatory (Electronics Lab II)
PRIVATE CUSTOMERS
Vierra, Lorraine
Dr. Mauro
Hawaii Island Adult Care
Church of the Holy Apostles
Island Home Loans
Kamehameha Schools
Sangha Hall
Sangha Hall
Temple Bar
Wallace Oki PE Inc
PRIVATE RESIDENTIAL
Nelson, Thomas
Vares, Clinton
Perkins Hawaii Realty (Jackson, William)
Perkins Hawaii Realty (Peters, Anna)
Vierra, Lorraine
Maeda, Edwin
Matsunami, Lloyd
Ignacio, Julene
Mates, Steve
Brown, Linda
Lava Rock Realty LLC
Yee, Micheal
PRIVATE COMMERCIAL
Spectrum-Makuu
Spectrum-Kapehu
Spectrum-Honokaa
Spectrum-Paradise
Office Depot-Hopaco
COUNTY OF HAWAII
Hilo Public Safety Complex (HPD)
Hilo Wastewater Treatment Plant
Kapehu Wastewater Treatment Plant
Kulaimano Wastewater Treatment Plant
Paipaikou Wastewater Treatment Plant
Pua Sewer Pump Station
Hawaii County Building
Aupuni Center
Kulaimano Elderly Housing
Kaiwiki Park (Parks & Recreation)
STATE OF HAWAII
Waiakea Hlth & Environmental Hlth
Hilo Medical Center
Hawaiian Home Lands (74 Moa Place)
Hawaiian Home Lands (2044 Uhaloa Rd)
Hawaiian Home Lands (Uhaloa/Uluhe Rd)
Hawaiian Home Lands (82 Andrews Ave)
Hawaiian Home Lands (83 Andrews Ave)
Hawaiian Home Lands (372 Desha Ave)
Hawaiian Home Lands (399 Desha Ave)
Hawaiian Home Lands (105 Lyman Ave)
Hawaiian Home Lands (Nahale'a Lot 63-65)
ASIAA Hawaii Operations
SOH Komohana-DLNR Lot
FEDERAL
Smithsonian